Summer Camp
 SCIENCE SUMMER CAMPS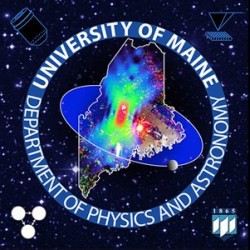 The 2016 Camps will be held during the following weeks:
6/27 – 7/1:         6-8 Space and Energy
7/5 – 7/8:            K-2 Astronomy
7/18 – 7/22:       K-2 Math and Art
7/25 – 7/29:       3-5 Math and Art
8/8 – 8/12:         6-8 Space and Energy
8/15 – 8/19:       3-5 Astronomy
The camp is $195/week ($156 for the 4-day week of 7/5-7/8) and runs from 9:00 am—3:00 pm (early drop-off/late pick-up options are available). Enrollment of multiple children and/or enrollment of a single child in multiple weeks of camp (or enrollment in the shortened 7/5-7/8 week) are discounted 20%.
If you have any questions or would like to submit registration forms, please contact us at:
Science Summer Camps
120 Bennett Hall
University of Maine
Orono, ME 04469-5709
phone: 207-581-1039
fax: 207-581-3410 ***
email: physics.camp@umit.maine.edu
*** Please include a cover sheet with all faxes stating the Science Summer Camps as the intended recipient.
We offer an early drop off/late pickup service for $5 per child per day or $20 per child per week. Please inquire with physics.camp@umit.maine.edu.
Spread the word by liking us on Facebook!